Offer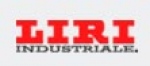 Liri - laminates
The company is a producer of decorative, elevation and interior use laminates. The offered collection belongs to the richest ones in the world.
In Poland the store collection, including about 150 colours, is available round the clock. There are mainly laminates of postforming class, however there are also other classes available.
Liri as one of a few producers offers in its assortment rich collection of so called metals and laboratory laminates and laminates with fire strength.
‹ back