Offer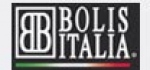 Bolis - Shelf supports, Furniture accessories
Bolis products represent modern solutions at home, in office or shop in form of the practical and functional shelf supports.
Available range of patterns is very wide: from simple forms, like Europa Obelix and Robusta designed for varnishing and wholly made of metal, through patterns with colour plastic cover plates (Leonardo, Pinocchio, Dea), patterns in retro style (Toscania), to very futuristic projects (Boomerang, Serenissima, Cartoon) and innovative colouring obtained by use of metallic varnishes (Belluci and Palladio).
In the assortment there are also glass shelf supports (Reggipiani Gondola or Luna), as well as shelves of the Zigzag type (Fermalibro, Vitra, Virgola and C-Book). All together it allows to create unlimited and unique arrangement of all kinds of rooms.
‹ back